Subway map
The fifteen stations of the Subway are distributed over a 10 km circuit of the West End and City Centre of Glasgow, with eight stations to the North of the River Clyde and seven to the South. There are two lines: an Outer circle running clockwise and an Inner circle running anticlockwise. All trains stop at all stations no matter the direction.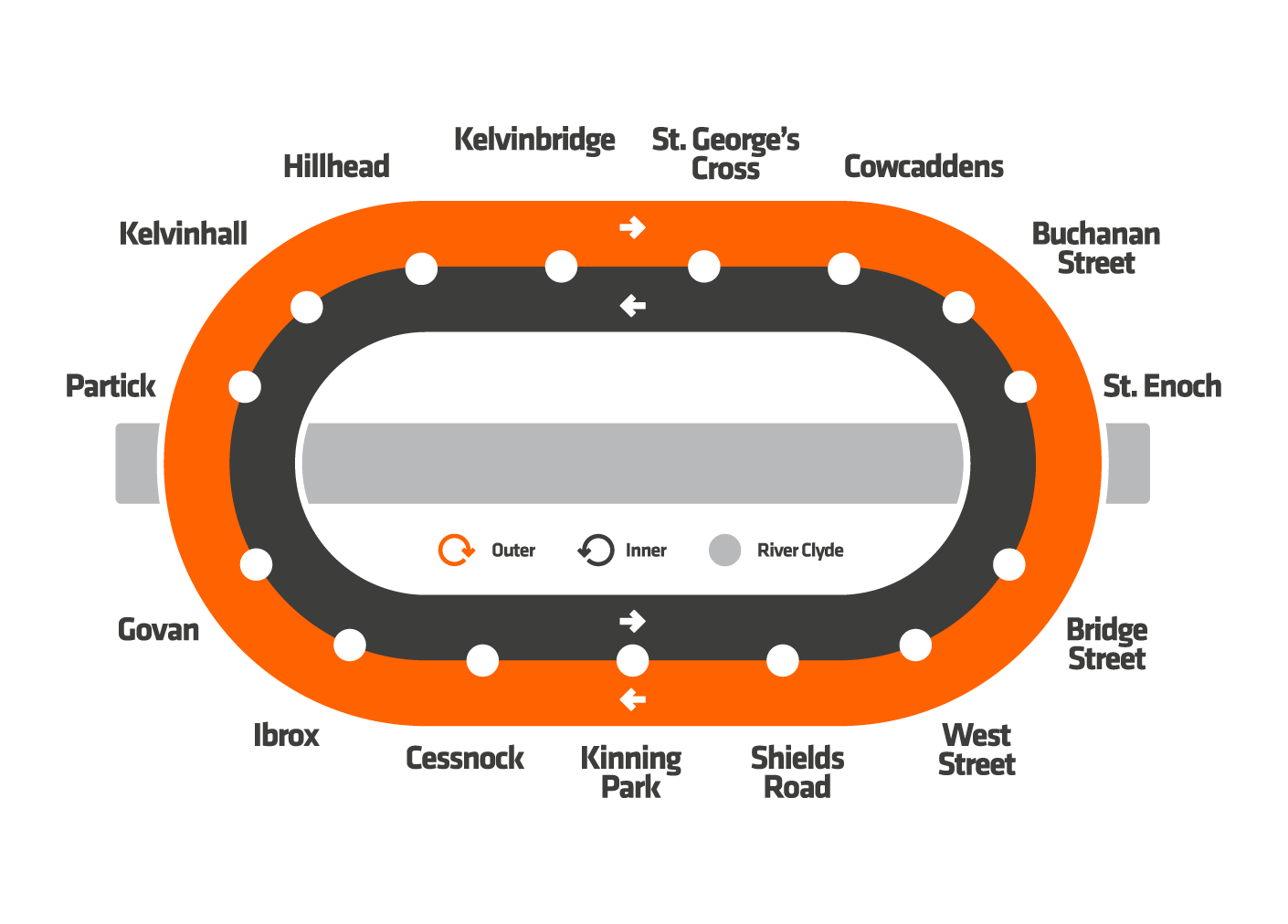 Download a high contrast Subway map
Stations (in alphabetical order)
Address:67 Eglinton Street, Glasgow, G5 9NR
Nearby:Citizen's Theatre, 02 Academy, Bike Hire.
Facilities:
Address:174 Buchanan Street, Glasgow, G1 2JZ
Nearby:Queen Street Station, Buchanan Bus Station, Buchanan Galleries, Bike Hire.
Address:1 Cessnock Street, Glasgow, G51 1AS
Nearby:Glasgow Science Centre, IMAX, SEC.
Address:11 Dundasvale Court, Unit 1, Glasgow, G4 0SN
Nearby:Glasgow School of Art, GFT, Tenement House.
Address:737 Govan Road, Glasgow, G51 2YJ.
Nearby:Govan Bus Station, Queen Elizabeth University Hospitals, Govan Old Parish Church.
Facilities:
Address:248 Byres Road, Glasgow, G12 8SH
Nearby:Byres Road, Ashton Lane, Botanic Gardens, University of Glasgow, Hunterian Museum, Bike Hire.
Address:124 Copland Road, Glasgow, G51 2UB
Nearby:Ibrox Stadium, Glasgow Climbing Centre, Bellahouston Park.
Address:99 South Woodside Road, Glasgow, G4 9HG
Nearby:Kelvingrove Park, The Stand Comedy Club, Bike Hire.
Facilities:
Address:7 Dalcross Path, Glasgow, G11 5RA
Nearby:Kelvingrove Museum, Kelvin Hall.
Address:30 Cornwall Street, Glasgow, G41 1AH
Nearby:Grand Ole Opry.
Address:15 Merkland Street, Glasgow, G11 6DB
Nearby:Partick Rail Station, Partick Bus Station, Riverside Museum, Bike Hire.
Address:360 Scotland Street, Glasgow, G5 8QF
Nearby:Scotland Street School Museum.
Facilities:
Address:10 St. Enoch Square, Glasgow, G1 4DB
Nearby:Central Station, St Enoch Centre, Argyle Street
Address:51 Great Western Road, Glasgow, G4 9AH
Nearby:The Mitchell Library, Bike Hire.
Address: 281 West Street, Glasgow, G5 8NB
Nearby: