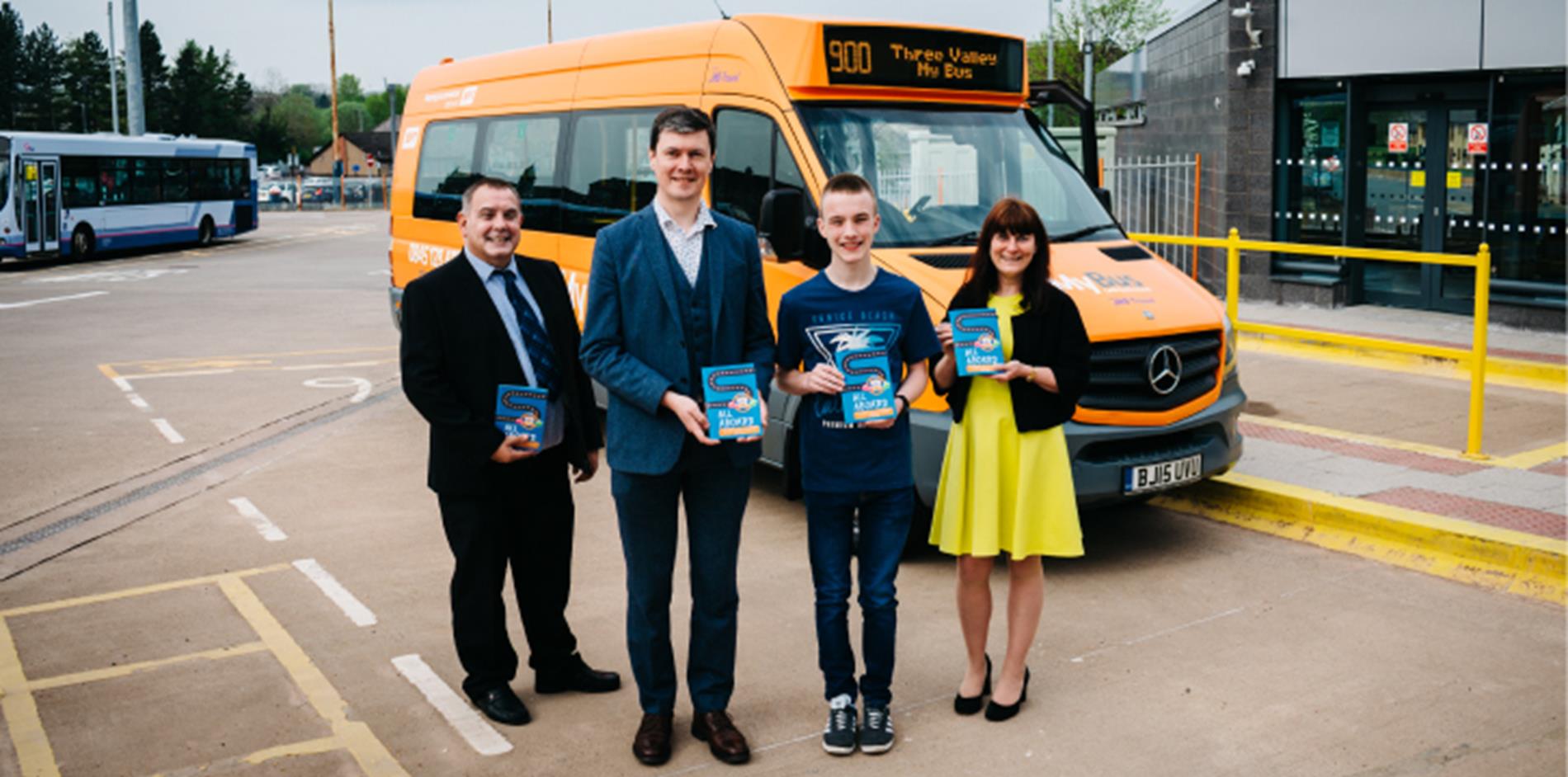 SPT has joined forces with members of the Scottish Youth Parliament (MSYP) and South Lanarkshire Council to highlight a new pilot project for the MyBus Rural service in South Lanarkshire.
Members contacted SPT to look at ways we might be able to help to promote MyBus Rural as a transport option to younger people in the area.
The project is inspired by the SYP's "All Aboard" campaign which aims to make transport more accessible to young people and improve their experience of public transport.
Reece Harding, MSYP member for Clydesdale where the pilot project is targeted, explained:
"Working with SPT on this campaign is really about increasing awareness of transport options to those aged 12 – 25 to ensure young people in South Lanarkshire have access to a bus service which offers value and meets their needs.
"We really hope that young people will take advantage of using MyBus Rural as a transport option with all the benefits it brings."
MyBus is a bookable bus service offering door-to-door transport and can be used by everyone.  The bus picks you up and drops you off as close as possible to your destination and it can be booked online.
South Lanarkshire Council's spokesperson for youth, Councillor Julia Marrs said:
"I'm delighted that joint working between The Scottish Youth Parliament, South Lanarkshire Council and SPT has led to an awareness and marketing opportunity for MyBus, a public bus service, which which can cater for all age groups with easy advance online or phone booking. It offers affordable, flexible and time convenient transport in our most rural of areas like Clydesdale, with none of the previous applicant limitations of previous schemes.
"I know as Spokesperson for Youth, that young people, especially those in rural areas, are a group often impacted by transport limitations for work, further education and socialising, and the MyBus Rural service offers them the opportunity to remain in the area they love but with connection to larger towns and cities."
Cllr David Shearer from South Lanarkshire, who also sits on the SPT Partnership, said:
"I am delighted to see the youth of South Lanarkshire work so well with SPT and MyBus Rural to resolve a pressing problem to deliver a much need transport fix in the rural area. It is my hope that this project can be replicated across Scotland."
SPT Chair Councillor Dr Martin Bartos  added:
"MyBus Rural plays a vital role in many rural communities and I am delighted that we have the opportunity to work with Scottish Youth Parliament to highlight the role that it can play across the community, to assist all ages to get out and about and be active members of society."
To find out more about MyBus and to book online, visit:  http://www.spt.co.uk/bus/mybus/