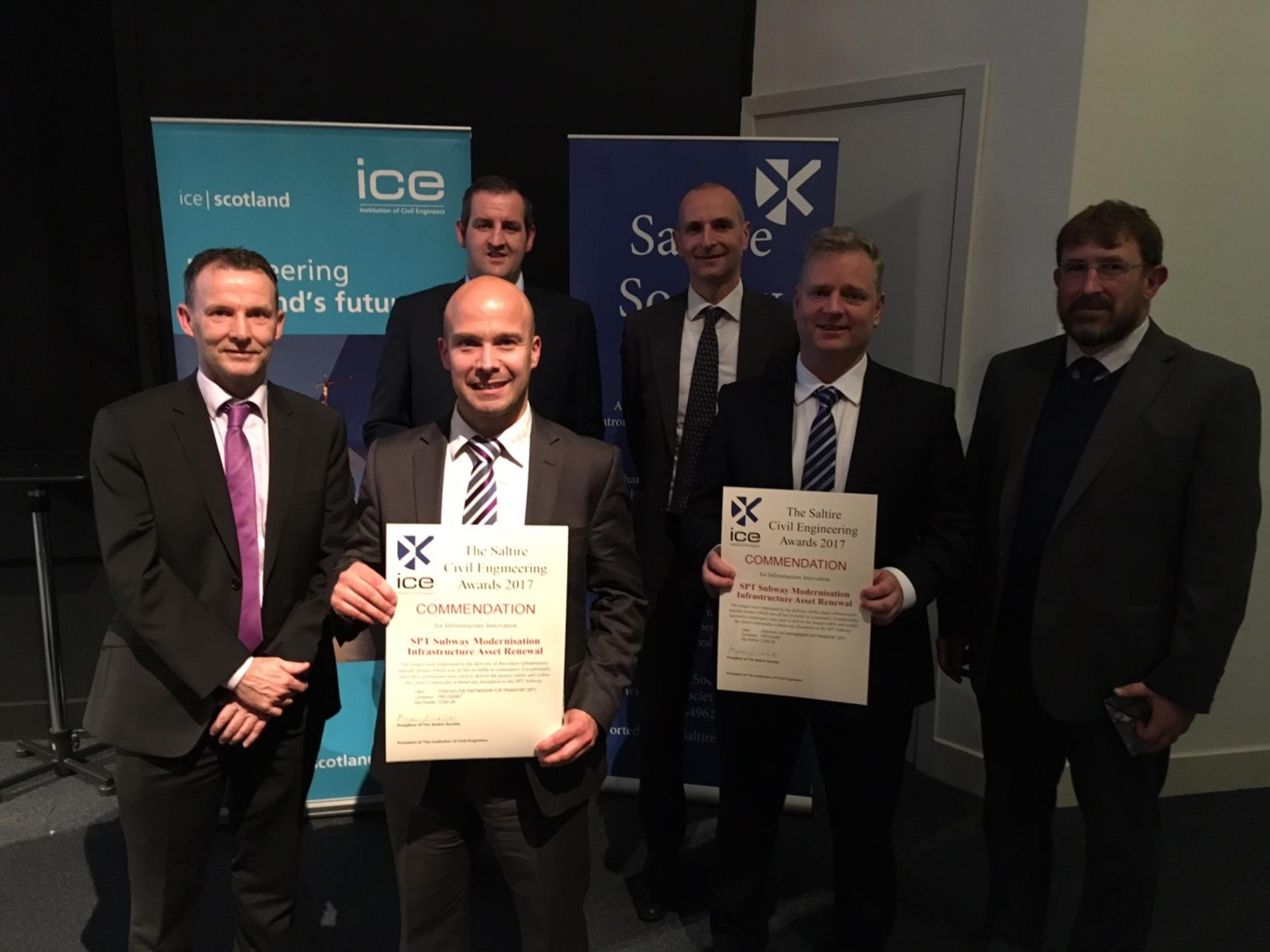 Subway Modernisation has picked up a Commendation at the Saltire Civil Engineering Awards for Infrastructure Innovation.
The Saltire Awards run in partnership between the Institute of Civil Engineers and the Saltire Society aim to recognise and celebrate civil engineering at its best across Scotland and worldwide.
The Subway Modernisation entry was submitted by Freyssinet, the contractors brought in to implement tunnel lining improvements in a targeted and prioritised work programme of tunnel lining works including water sealing, void filling, lining repairs and trackbed repairs.
This work has been carried out during the night over the last two years in the four and half hour window available when the Subway stops running and when service resumes.
It has been a mammoth logistical and technical task for the Freyssinet team, involving 150 people deployed to strengthen and modernise the 120-year-old tunnels, using more than 175,000 bags of grout materials.  The team also designed and fabricated their own bespoke equipment specifically to transport the bags of grout, and miniaturised their spraying system combining the existing wet and dry spray techniques with bespoke equipment fit for the Subway work environment. The implementation of the works was inspirational and a credit to the civil engineering profession, extending the life of a critical piece of public infrastructure.
In an impressive logistical feat:
engineers cleaned and inspected 14,600m of tunnel and 14,000m of track bed and drainage channel,
repaired 2,800m2 of tunnel
carried out 3,000m3 of grouting work over a two year period.
Senior director Charles Hoskins said:
"Well done to Freyssinet for the Commendation from the Saltire Awards.  The tunnel lining renewal programme was a major piece of work and essential to the Subway Modernisation programme.  Its completion is a credit to the civil engineering profession, and will ensure our tunnels remain fit for purpose as we introduce our new signalling system and trains."
Find out more about the Freyssinet tunnel lining works at: https://www.youtube.com/watch?v=Md0bCFke8YU