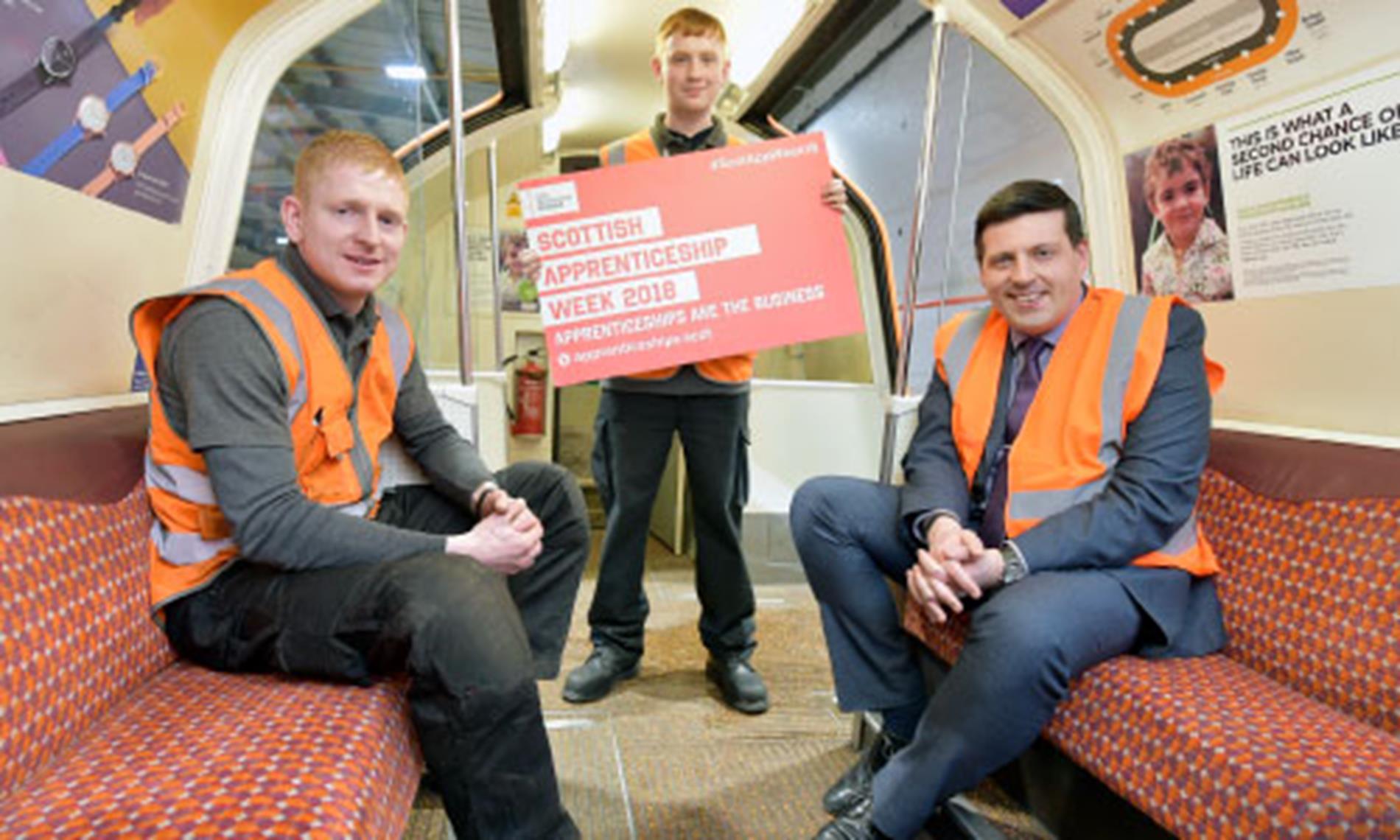 Minister for employability and training Jamie Hepburn has been visiting SPT's Broomloan Depot to meet modern and mature apprentices as part of Scottish Apprenticeship Week. 
Broomloan Depot is home to Glasgow Subway's maintenance team who look after all engineering assets for the Subway including the fleet of trains, signalling equipment, electrical high-voltage system and the track.
Head of Engineering and Maintenance Eileen Russell recently re-introduced the apprenticeship scheme for both new students and current mature employees.  The last apprenticeship scheme run by SPT was in 1995.
Eileen explained:
"This is a really exciting time for the Subway, as we are currently in the midst of delivering the Subway Modernisation Programme.  We wanted to look at new ways to invest in the hard-working maintenance team we already have here, and gave people real opportunities for development and growth as well as secure the skills we will need in maintenance for our new fleet of trains and signalling system.
"We were also keen to take on two modern engineering apprentices and offer an excellent opportunity for two young people starting out to consider SPT and the rail industry as a career choice."
All the prospective apprentices shortlisted underwent a rigorous assessment centre interview process before the final candidates were selected.
Eileen added:
"We are absolutely delighted with our selection.  The new modern apprentices have fitted into the team really well and are proving themselves to be keen and enthusiastic to learn which is brilliant.
"Working closely with our mature apprentices is a great learning opportunity, it gives the mature apprentices the chance to demonstrate how much they know, and can teach, the new guys."
The successful candidates were:
Modern Apprentice - David Wilson from Port Glasgow, currently working towards an HNC Engineering Systems with renewable energy at West College Scotland.  David is passionate about learning new skills to progress further in life.
Modern Apprentice – Lee Clarke from Clydebank, studying an NC electrical engineering at Glasgow Kelvin College.  Lee has always wanted to be an engineer, likes to know how things work and how to fix them and wants to pursue a career in this sector.
Both the modern apprentices are now following the Modern Apprentice in Engineering Systems working towards Higher National Certificate in Engineering Systems along with associated Scottish Vocational Qualification Level 2 and Level 3 Multi Skilled standard.
Mature Apprentice – Mark McCormack from Paisley has worked for SPT in Subway since 2004 in the maintenance department.  Mark thought the Mature Apprenticeship programme a great opportunity to use his skills and knowledge and increase motivation.
Mature Apprentice – Gavin Cameron from Dalry has worked for SPT since 2010 as a semi-skilled worker.  Gavin applied for the Mature Apprenticeship programme as he feels this is a fantastic opportunity to build on his natural aptitude for engineering.
Following the visit, Minister for Employability and Training Jamie Hepburn said:
"Apprenticeships are life changing opportunities – providing the chance, not only to work and earn, but also to achieve an industry recognised qualification to support future career ambitions. They are also a fantastic way for all employers in Scotland, regardless of size and sector, to develop their workforce and contribute to business and economic growth.
"I am delighted to see SPT join the growing number of employers in Scotland who are delivering new and innovative modern apprenticeships and want to offer my congratulations to the successful candidates and wish them all the best in their future careers."