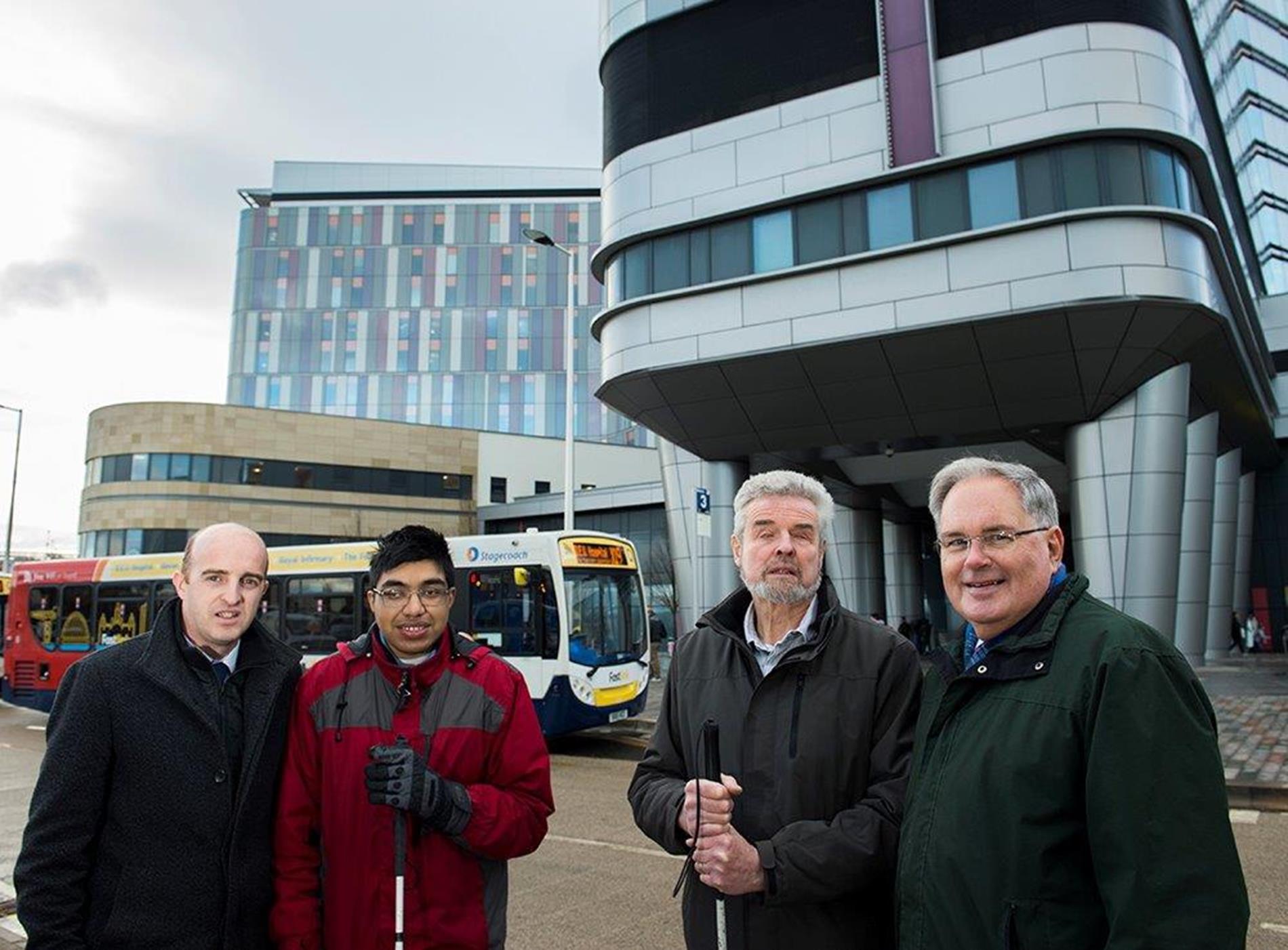 A new Audio Visual Announcement System provided by SPT is making a difference to the lives of blind or partially sighted passengers travelling on Stagecoach West Scotland's X19 services which runs from Easterhouse to Glasgow city centre and then to the Queen Elizabeth University Hospital providing a vital link for staff, patients and visitors attending the hospital.
As part of their continued partnership with Stagecoach on the X19 service, which uses the Fastlink Busway, SPT has invested £40,000 to provide next stop announcements using real time passenger information to inform blind or partially sighted passengers where they are on their journey and when their stop is coming up.
SPT Chief Executive Gordon Maclennan said: "SPT continuously strives to ensure all passengers receive the best service possible when travelling by bus, especially those passengers who may need extra assistance on their journey.
"Public transport is a life line for many passengers with assisted needs, in terms of accessing jobs, goods and services and social networks. The audio visual announcement system installed on the X19 service is an example of how we can offer practical help to partially sighted or blind passengers to know where they are on their journey at any time and when the next stop is coming up.
"This hopefully gives passengers more confidence when travelling independently by bus."
The system will also provide benefits to visitors to Glasgow as well as current users of the X19 services.
Trying out the new announcement system at the Stagecoach Depot in Cumbernauld, Deputy Director of RNIB Scotland James Adams said: "For people with sight loss, their local bus service can be a lifeline for getting to work, to the shops and for staying in touch with family and friends. If you are unable to drive or cycle and can't afford taxis, the bus is the only way of getting around. But knowing when your stop is approaching can be a major problem.
"This new Audio Visual Announcement System should prove a great help in overcoming this, especially on a service that includes a major hospital, where many people with sight loss, particularly more elderly ones, are likely to attend. We hope that this will become a standard feature on buses."
To assist with the development of the new Audio Visual Announcement System, Stagecoach has invested significantly in Automatic Vehicle Location technology which allows real-time next-stop information to be delivered to customers in a variety of ways, including through smartphone apps.
Stagecoach staff also took part in a Swap With Me event, organised by the RNIB, where bus crews wear specially adapted glasses to stimulate different levels of sight loss to gain a better appreciation of some of the problems faced by blind and partially sighted passengers.
Managing Director Stagecoach West Scotland Tom Bridge said: "We are continuing to work in partnership with SPT to improve services for customers across the West of Scotland.
"We want our buses to be accessible to everyone, including people who are blind and partially sighted and the 'Swap with me' event will help our staff to understand the practical issues faced by blind and partially sighted people."