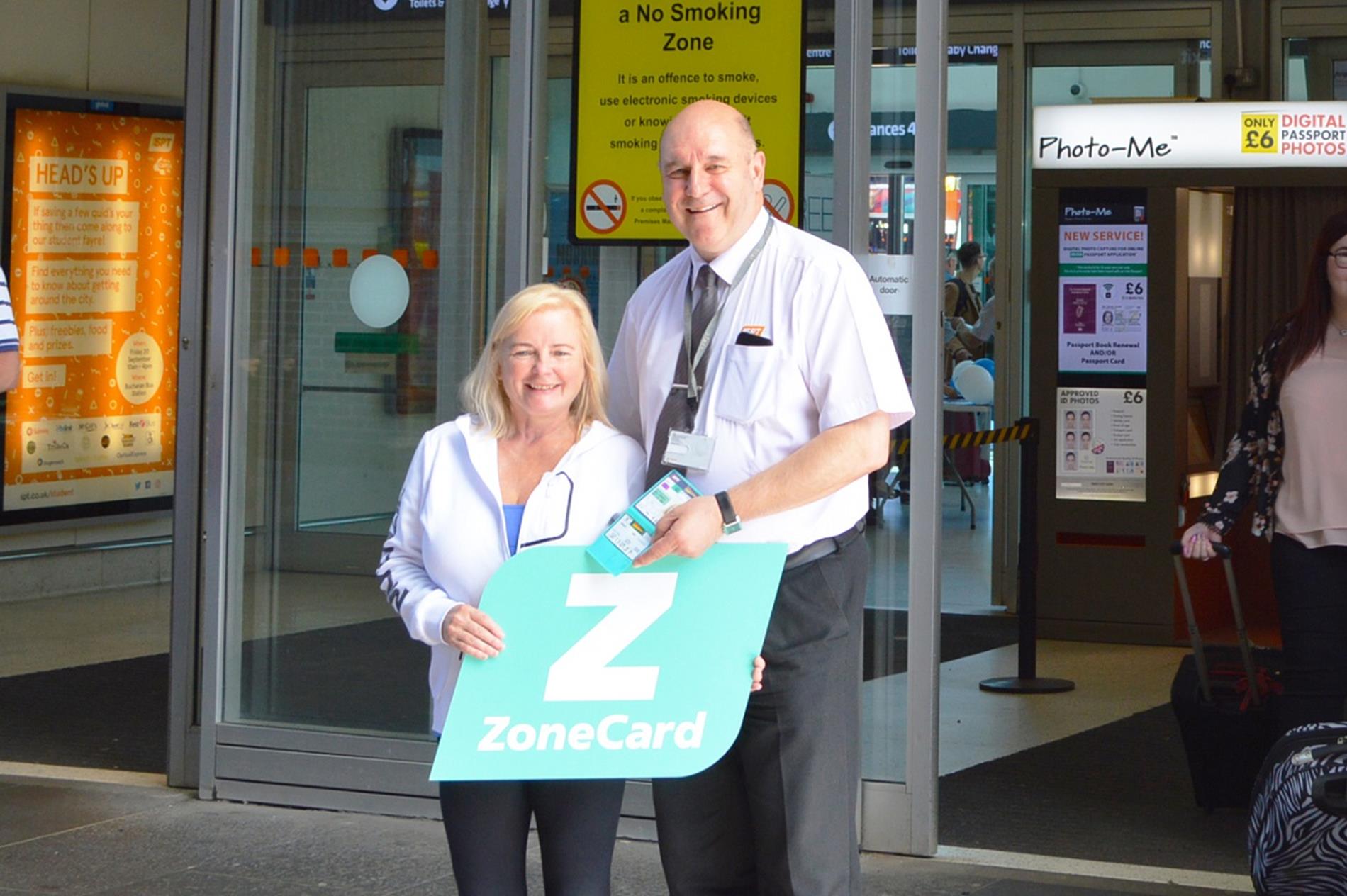 SPT has announced the latest winner of the ZoneCard survey prize draw. The lucky lady is Catherine McCarry from Dumbarton who will now receive a year's free travel.
Catherine, who is a carer for the local Council, travels from Dumbarton to Dalmuir five days a week and two days a week travels to visit her grandchildren.  Occasionally she also enjoys a shopping trip to Glasgow, which should now be a lot more fun with the savings from a year's worth of free travel.
Catherine said:
"I've really come to depend on my ZoneCard so much as it makes life so much easier getting about.  I can't tell you how great it has been to win, it's a big saving for me so I'm just going to enjoy saving on my travel each month and buy myself something nice!
"I'd like to thank everyone at ZoneCard, everyone I've met has been so lovely and I'm delighted to have won."
Twice a year, in Spring and Autumn, SPT offers ZoneCard holders the chance to complete a week-long travel diary detailing all the journeys they make with their ZoneCard.
However from now on, all ZoneCard diaries will be completed online.  All customers with a ZoneCard valid at the time of the survey will be eligible to take part.
The next opportunity to complete a ZoneCard diary week will be from 27 October.  Customers can visit spt.co.uk/zonecard to find out more.
Everyone who completes the survey gets a £7.50 voucher which can be redeemed against their next ZoneCard purchase.
Catherine was presented with her prize by Subway service delivery officer Graham Hart.
The ZoneCard is an operator owned, SPT administered, multi-modal ticket offering unlimited travel throughout Strathclyde by bus, rail, Subway and ferry from just £20.30. An estimated 10 million trips are made using the card each year. The ZoneCard survey prize draw runs twice-a-year and is a fantastic opportunity to win a year's free travel just by filling in a week-long diary. Keep a look out for details.