Opening hours & facilities
The station
open 24 hours
Staffed Monday – Saturday 09:00 – 17:00.
Smoking is only permitted outside the bus station. SPT has banned all smoking (including e-cigarettes) from its buildings and premises. Please dispose of butts appropriately and avoid smoking at exits.
For your safety and security CCTV monitoring and recording is in operation.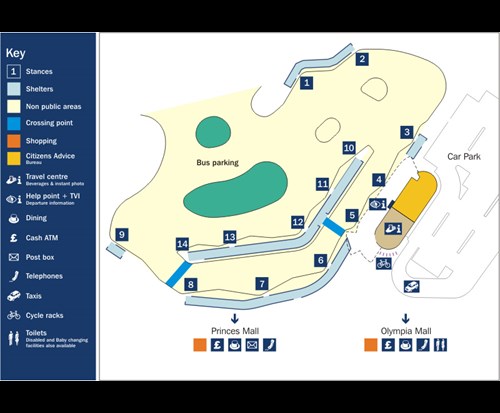 Please note the Ticket Office will be closed until further notice.
The Ticket Office is open Saturdays only from 09:00 to 17:00. It is wheelchair accessible, and has dropped counters and induction loops for disabled travellers.
There are no facilities for left luggage.
If you have lost something in the bus station, please phone 0141 333 3708 (09:00 to 16:45 Monday to Saturday). For property lost on a bus or coach, please contact the relevant operator. All items lost/found (with the exclusion of perishable items) are sent to Police Scotland.
Address: East Kilbride Police Station
Email: custodiers@scotland.pnn.police.uk
Telephone: 101
Opening Hours: 09:00 to 17:00 Monday to Friday (Closed on Public Holidays).
Defibrillator box available Monday-Saturday 9-5
Bike racks are available adjacent to the Travel Centre on a first-come first-served basis. SPT does not assume responsibility for stolen or damaged bikes.
There is plenty of car parking adjacent to the bus station in the shopping centre car parks.
There is a 24 hour taxi rank located next to the Travel Centre operated by East Kilbride Taxi Owners Association, telephone 01355 229171 or 01355 266666.
All areas of the bus station and Travel Centre are wheelchair accessible.
In addition, wayfinding slabs help to guide visually impaired travellers around the bus station and to individual stances.
All information and instructions are displayed in large print on screen and in an audio format.
To discuss accessibility needs phone 0141 333 3762.
Bus services & stances
Stance information is shown for guidance only. Customers should refer to departure screens on arrival.