Opening hours & facilities
The station
Open 24 hours
The concourse is open between 06:00 to 23:00
CityLink Ticket Office
Open 7 days a week
09:00 to 17:00 for ticket sales and travel information
Telephone: 0141 333 3708.
Smoking is only permitted outside the bus station. SPT has banned all smoking (including e-cigarettes) from its buildings and premises. Please dispose of butts appropriately and avoid smoking at exits.
For your safety and security CCTV monitoring and recording is in operation.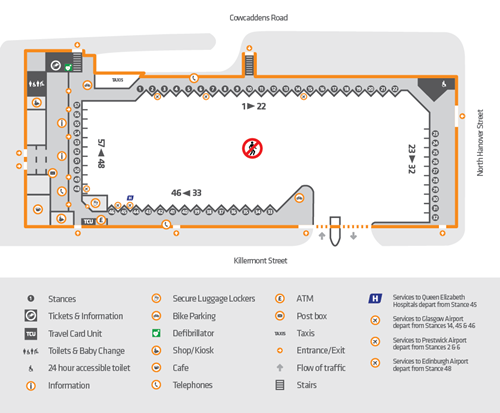 CityLink Ticket Office is open 7 days a week from 09:00 to 17:00. It is wheelchair accessible, has dropped counters and induction loops for disabled travellers.
The male and female toilets are located on the main concourse and are open daily between 06:00 and 23:00 with baby change facilities in both toilets. A charge of 30p applies to toilets and a change machine is located at the entrance to the toilets.
There is a disabled toilet, with baby change facilities located in the same area. Access to the disabled toilet is controlled via a RADAR key, which can be obtained from the security guards.
The left luggage facility is available between 07:30 and 23:00 daily.
All luggage deposited in this facility is subjected to a search prior to being accepted. Maximum use is 24 hours only.
Small (hand baggage): £5.00
Medium (backpacks): £6.00
Large (large suitcases) £7.00
If you have lost something in the bus station, please phone 0141 333 3708 (09:00 to 16:45 Monday to Saturday). All items lost/found (with the exclusion of perishable items) are sent to the Custodiers Department (Police Scotland).
Address: Jocelyn Square, Glasgow, G1 5JU (Off the Saltmarket)
Email: custodiers@scotland.pnn.police.uk
Telephone: 01786 896 990
Opening Hours: 09:00 to 17:00 Monday to Friday (Closed on Public Holidays).
For property lost on a bus or coach, please contact the relevant operator.
Public access defibrillator available 24/7 located adjacent to the stairs next to Cowcaddens Road;
Two photo-me booths;
Public phones;
Post box;
Three retail units and a café;
Two cash machines close to the Killermont Street exit.
Bike racks are available at Stance 33 and next to the drop-off point/taxi rank on a first-come first-served basis. SPT does not assume responsibility for stolen or damaged bikes.
NextBike, in collaboration with Glasgow City Council, operate a bike hire scheme. There are racks on Killermont Street and Cowcaddens Road adjacent to the bus station.
There is a drop-off area off Cowcaddens Road. Concert Square car park adjacent to the station. There is also a multistorey car park located at Buchanan Galleries, off Killermont Street.
There is a 24 hour taxi (Glasgow Taxis) rank located off Cowcaddens Road.
Glasgow Taxis phone number is 0141 429 7070.
All areas of the bus station, CityLink Ticket Office and Travel Card Unit are accessible by wheelchair.
The bus station has a REACT audio wayfinding system to give an alert directing the traveller to key locations within the bus station.
Within the Travel Centre there is an induction loop sound system which produces a signal for partially deaf customers who use a hearing aid.
We also have a tactile map of the bus station and a tactile map of the surrounding areas in the main concourse for blind and partially sighted travellers.
All information and instructions are displayed in large print on screen and in an audio format.
If you need any assistance the Thistle Assistance Card is available to help make using public transport easier for older people and those with disabilities or illness.
To discuss accessibility needs phone 0141 333 3762.
Bus services & stances
Stance information is shown for guidance only. Customers should refer to departure screens on arrival.