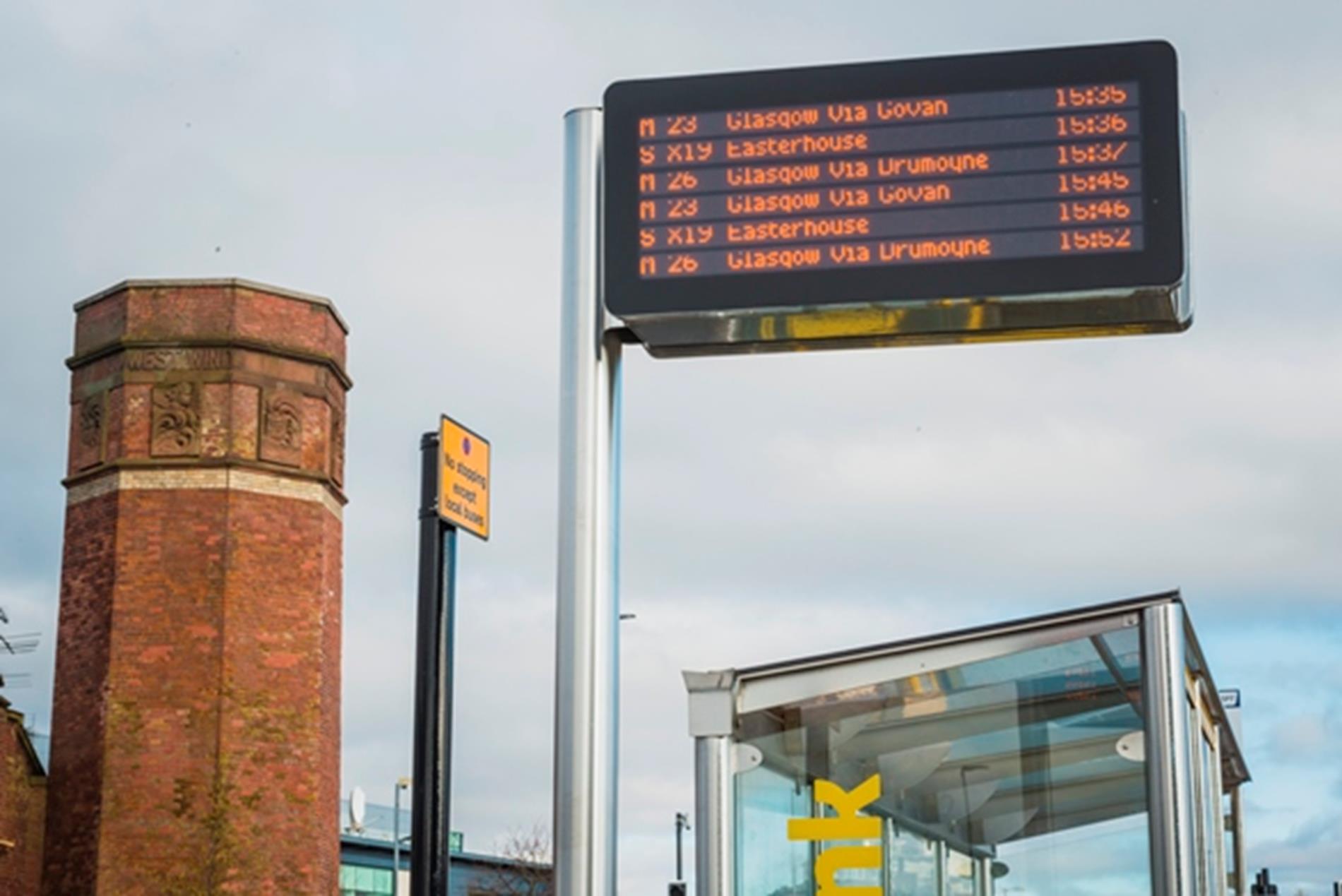 Strathclyde Partnership for Transport (SPT) has been working with Renfrewshire Council to introduce real-time digital information displays at bus stops in the area, using funding provided by the Scottish Government's Smarter Choices, Smarter Places programme.
The Paisley - Renfrew - Glasgow corridor is the latest route to benefit from the investment with new displays now live, after similar displays were installed along the A761 Glasgow Road corridor in 2018.
Chair of SPT operations committee David Wilson said:
"Having reliable and real time passenger information for passengers is essential.  Quite rightly there is a demand from bus users, local authority colleagues as well as bus operators to ensure up to date service information is available to the travelling public.
"I am delighted we have now established RTPI for bus passengers in Renfrewshire, which should make their experience of using public transport much better, offering a very viable alternative to the car."
Real-time information gives passengers at the bus stop live updates on the expected arrival of their bus by tracking its actual location and comparing it to the scheduled timetable. If the bus is running late, it will outline how much longer passengers may have to wait.
Where stops do not have displays, real time bus information is available for passengers via the Traveline Scotland app and website.
Councillor Marie McGurk, Convener of Renfrewshire Council's Communities, Housing and Planning Policy Board, added:
"It's great that bus passengers in Renfrewshire will now have high quality information available at more bus stops on when their bus is due.
"Real time information provides passengers with even more confidence when travelling and will encourage more people to use bus services within Renfrewshire."
The effectiveness and quality of the new displays will be continually monitored to ensure they provide an accurate, high-quality service for passengers.