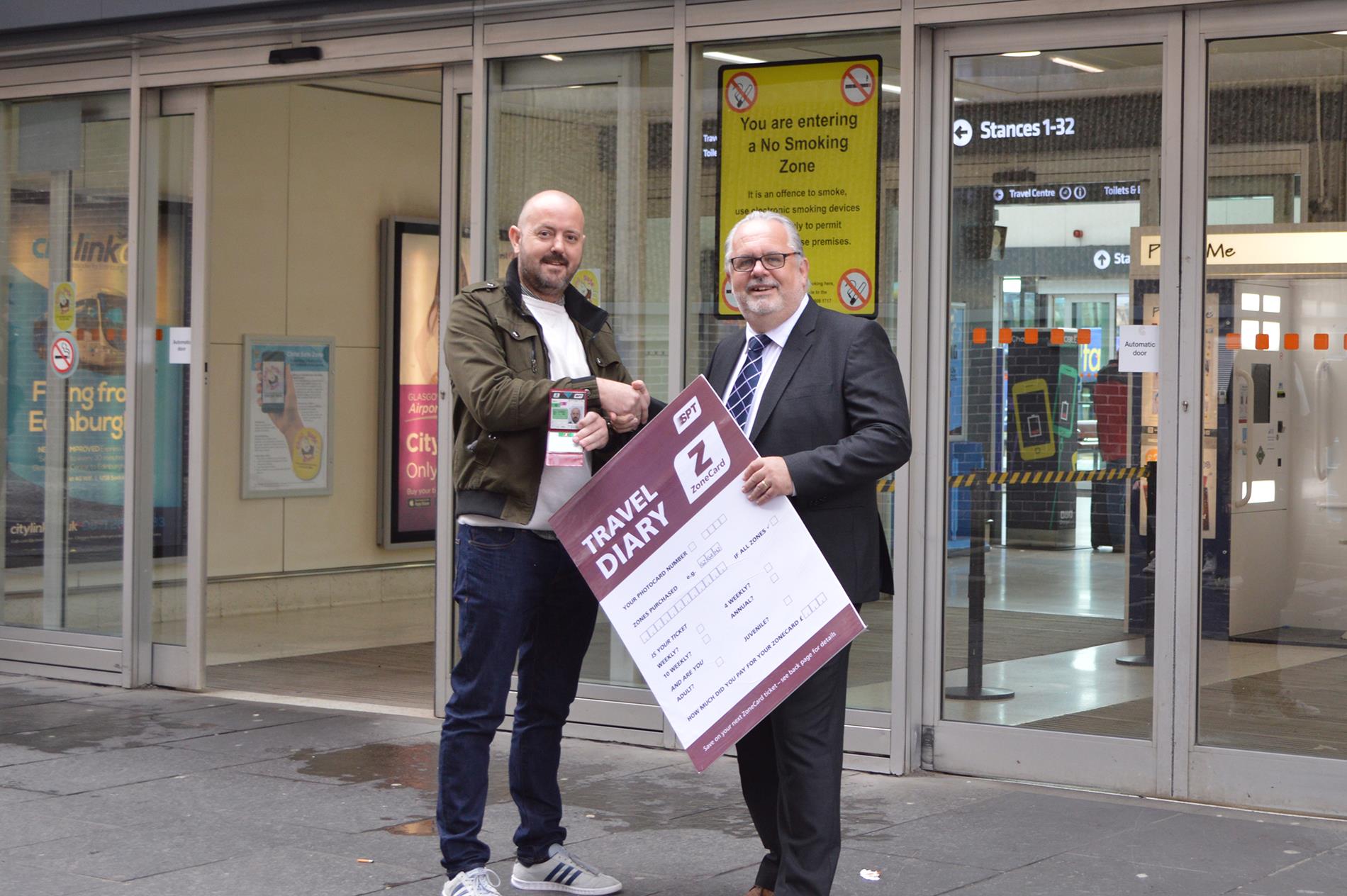 Our latest ZoneCard prize draw winner Paul Smith is celebrating collecting a year's free travel in SPT's twice-yearly survey prize draw.
Paul, who lives in Barrhead, works for a small printing company in Maryhill and travels daily to work using the bus and train services.
Paul explained:
"My daily routine is pretty much leave home at 7:15am so I'm in work by 8:45am, then leave work at 5pm and be home by 6:15pm.  I pretty much forgot I'd entered the ZoneCard competition and when I got the letter through I almost threw it out!
"The money I'm saving on travel costs over the next year will really help me out a great deal as I have just booked a holiday to Florida in January so now I can put my saved ZoneCard money each week towards that."
Twice a year, in Spring and Autumn, SPT offers ZoneCard holders the chance to complete a week-long travel diary detailing all the journeys they make with their ZoneCard. The competition is open to all travellers purchasing or renewing a ZoneCard during the survey week, with SPT selecting a winner at random from all completed diaries.
Everyone who completes the survey gets a £7.50 voucher which can be redeemed against their next ZoneCard purchase.
Interim head of commercial for First Glasgow Paul Coupar presented Paul with his prize.
Paul Coupar said:
"Well done Paul, congratulations. I'm sure you'll have great fun with your saving. Thanks too for helping ZoneCard, by taking the time to let us know about your weekly travel patterns. Paul is a great advert for the benefits of the ZoneCard ticket, using First bus services regularly as well as other forms of public transport, in and around the City."
The ZoneCard is an operator owned, SPT administered, multi-modal ticket offering unlimited travel throughout Strathclyde by bus, rail, Subway and ferry from just £19. An estimated 10 million trips are made using the card each year. The ZoneCard survey prize draw runs twice-a-year and is a fantastic opportunity to win a year's free travel just by filling in a week-long diary. Keep a look out for details.