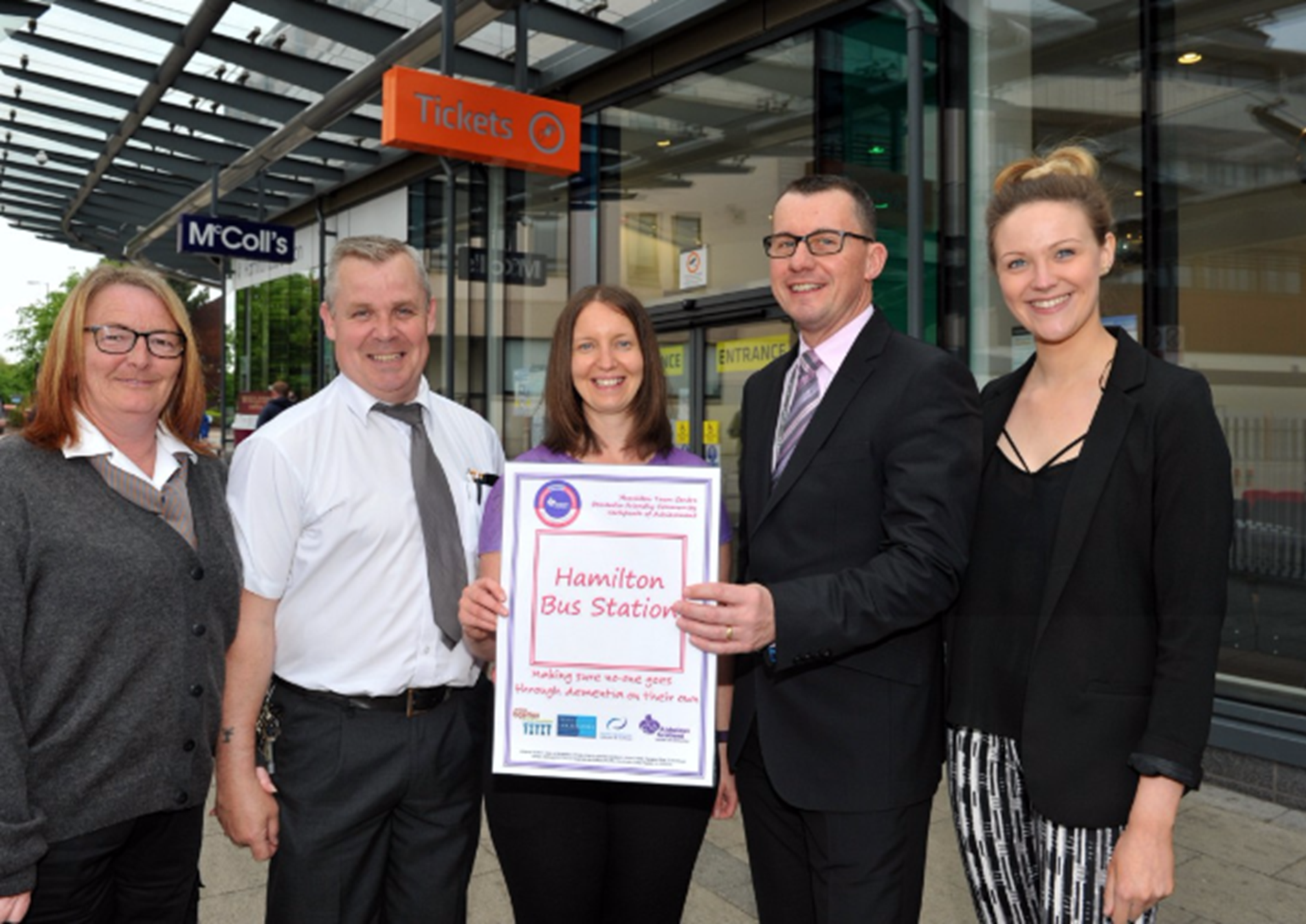 All SPT Bus Stations have signed up to a new project to raise awareness and help people living with dementia stay part of, and remain engaged with, their community.
The pilot project, designed by Alzheimer Scotland and Seniors Together, links up with local businesses, services and community groups and supports them to become dementia friendly. The project aim is to ensure those living with the condition stay an integrated part of the community for longer, and ultimately lead a more sustained, fulfilling life as their illness progresses.
Dementia adviser Anna Clements from Alzheimer Scotland said: "Ensuring people with dementia have the confidence to go out in their local community and feel a part of society is very important. The risk if they do not is they become more isolated and alone. This is a very common problem and one which we are working to combat.
"Having local bus stations support the project is vital as by signing up and committing to become dementia friendly helps vulnerable people feel more confident in getting out and about."
As part of the Dementia Friendly project, bus station staff from East Kilbride, Hamilton, Greenock and Buchanan Bus Station have taken part in dementia awareness sessions to demonstrate their commitment to the scheme. This will help stations work towards the coveted 'Dementia Friendly Status' and they will receive a 'Dementia Friendly Community' award and window sticker which they can display. This shows people with dementia that staff in stations understand their needs and they will feel more comfortable using the service.
SPT bus operations and security manager Gerry Irvine said: "Dementia is a terrible illness and SPT is proud to support this Alzheimer Scotland and Seniors Together project. The sessions our staff took part in means they are more confident now dealing with passengers who perhaps need a little extra time and attention.
"We are now more aware as a service the effect that this illness can have on people when they become too anxious to leave their house. Getting out and about, meeting friends can help people feel more connected to their communities and we are keen to ensure that we help people feel more confident to do that."