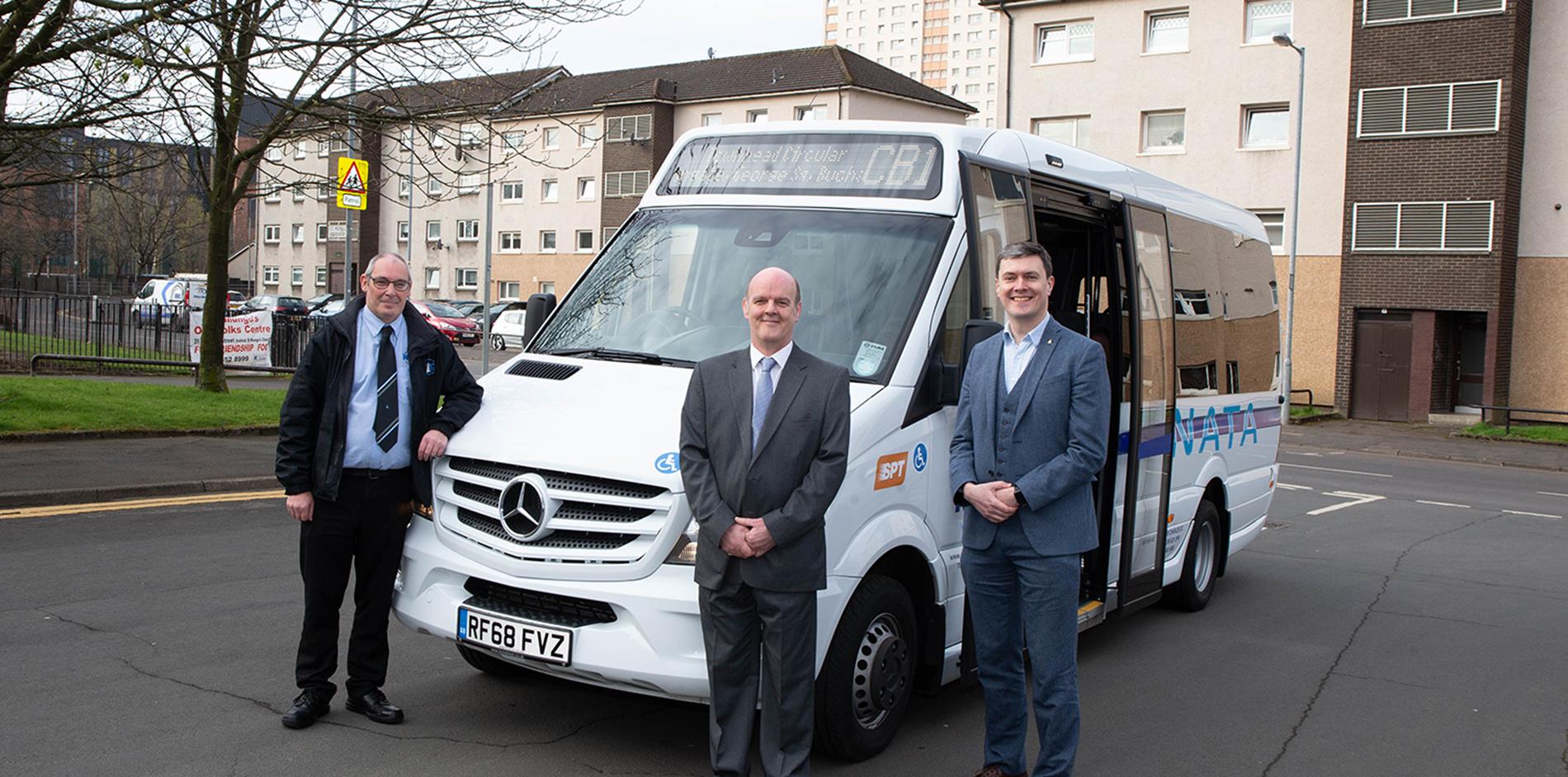 Funding from SPT has helped local community transport provider, North Area Transport Association (NATA), to buy a new minibus compliant with the new Glasgow Low Emission Zone (LEZ).
SPT has awarded £95,000 from its grant funding to NATA which has purchased a new 16 seat low floor Euro 6 minibus to replace an older minibus used in the City Centre.
Community transport is essential for some of our most elderly, disadvantaged and vulnerable groups, and often fills gaps in the mainstream transport network provision.  SPT grant funding is specifically designed to help community transport project improve access to goods, services and facilities for communities in the West of Scotland.
NATA promotes participation in society for all socially excluded target groups in the Glasgow area by providing accessible, affordable and reliable community transport that links effectively with local services.
SPT Chair Councillor Dr Martin Bartos visited the North Area Transport Association to find out more about the invaluable work carried out by the Association.
Dr Bartos said:
"NATA plays an essential role in this area, providing accessible, affordable, and reliable community transport services to a wide range of community groups and organisations.  They help those who often feel most excluded and isolated, whether elderly, disabled, young people, or any other vulnerable group, take part in community life and access many essential services.
"Groups such as this have a huge role to play to help those who, for whatever reason, experience difficulties and problems accessing conventional public transport.
"I am delighted that SPT has been able to grant fund this project with £95,000 to buy a new minibus which meets the requirements of Glasgow's low emission zone."
NATA's operations director Robert Woodrow said:
"Without the support of SPT and this substantial grant funding we would not be able to carry out our work in this community. Every day we carry up to 100 passengers who all need a little bit more help and assistance, or even just time, to get about whether it's to the city centre for shopping, attend appointments, or to meet up with other groups. We also help get some children to school who would find it much more difficult without our service.
"This new bus is a lifeline for them and for us, and we're delighted SPT has been able to assist with its purchase."